Chinese visitor arrivals, expenditure more than double in Jan-June 2015
A huge 138% surge in Chinese visitor spending paved the way for the Thai tourism industry to chalk up 697.5 billion Baht in total visitor expenditure in the first half of 2015, according to figures just released by the Ministry of Tourism and Sports.
The total expenditure by visitors of all nationalities was up 29.69% over January – June 2014, and matched the 29.54% growth in visitor arrivals in January – June 2015.
Overall, Chinese visitors are now by far the biggest source of both visitors and expenditure, totalling 4 million arrivals in first six months of this year, up 111% over 1.89 million in the same period of 2014, with an expenditure of 190.9 billion Baht, up 138.9% over 79.9 billion Baht in January-June 2014.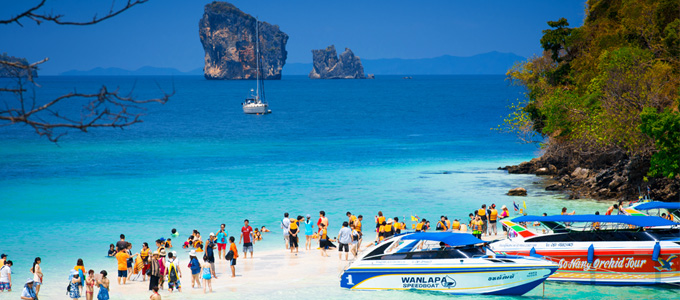 The sharp rise in visitor expenditure is playing a major role in bolstering the Thai economy, supporting jobs and income distribution nationwide. It also fits in with the new strategic focus of the Tourism Authority of Thailand (TAT) to make visitor expenditure the dominant criteria of measuring the success of the tourism industry, as against visitor arrivals.
Although the January – June 2015 figures are preliminary, they provide a good indication of the resurgence in tourism following the overall decline in visitor arrivals and expenditure in 2014. The Royal Thai Government now recognises tourism as a major driving force in the national economy.
Other nationalities in the top-ten list of visitor expenditure in January – June 2015 were:
| | | |
| --- | --- | --- |
| Country (January – June 2015) | Amount (billion Baht) | % change over January – June 2014 |
| China | 190.919 | +138.91 |
| Malaysia | 39.755 | +64.58 |
| United Kingdom | 32.498 | +4.55 |
| Russia | 31.768 | -50.43 |
| USA | 29.938 | +15.80 |
| Australia | 29.021 | +6.18 |
| Japan | 27.972 | +28.42 |
| Korea | 26.775 | +29.12 |
| Germany | 25.094 | +9.38 |
| France | 24.304 | +16.35 |
In terms of arrivals, the top-ten nationalities were:
| | | |
| --- | --- | --- |
| Country (January – June 2015) | Amount | % change over January – June 2014 |
| China | 4,006,584 | +111.64 |
| Malaysia | 1,704,370 | +57.93 |
| Japan | 675,758 | +16.79 |
| Korea | 638,296 | +19.71 |
| Laos | 565,601 | +20.73 |
| India | 526,120 | +17.01 |
| Russia | 466,457 | -50.35 |
| United Kingdom | 462,633 | +2.73 |
| Singapore | 459,795 | +36.46 |
| USA | 426,955 | +12.21 |
Source = Tourism Authority of Thailand